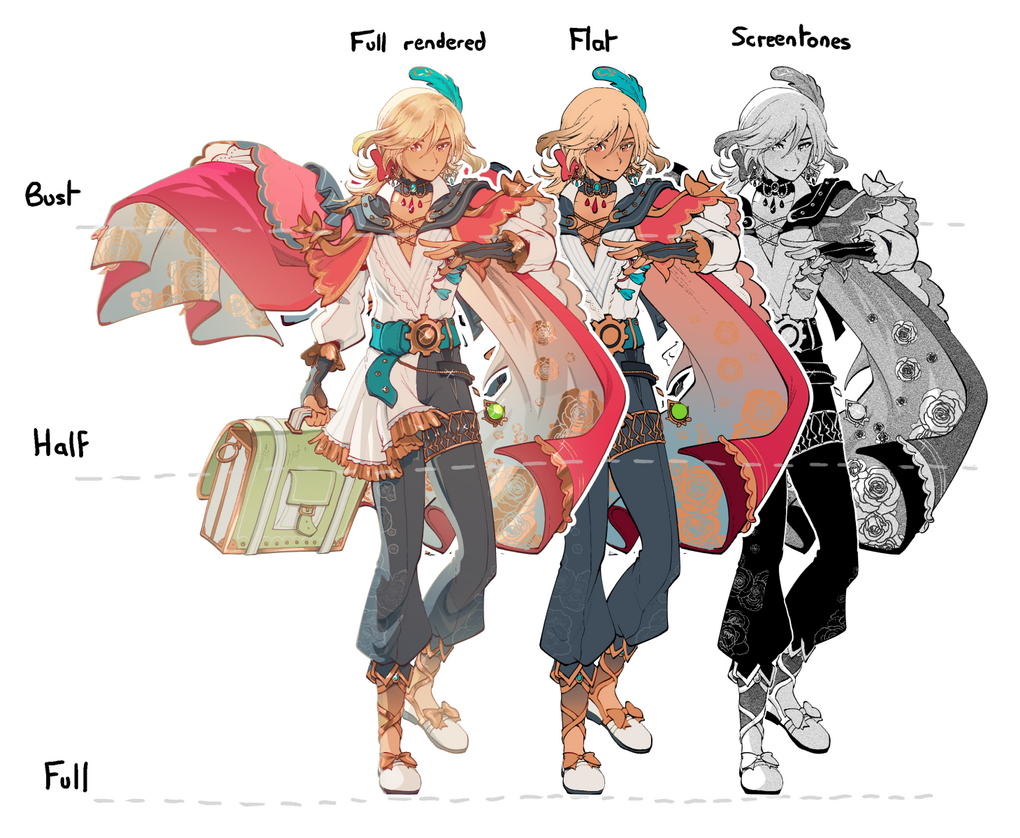 Full Rendered
Bust: 55€

Half: 77€

Full: 97€
Flat
Bust: 28€

Half: 33€

Full: 41€
Screentones
Bust: 23€

Half: 28€

Full: 36€
For additional characters, count 90% of the price of the first character (For exemple if the commission is full rendered, the first character will cost 97€, and the second 87€).
For backgrounds, it will depend on the complexity. A desert can for example cost 10€, whereas a forest can cost 30€, and a complex building (like in an haussmannian style) 80€.
There can be extra fees for commercial uses.
---
Pricing examples
Example A : 55€
Full rendered bust (55€) + No background
Example B: 146€
Full rendered half (77€) + Additional character (69€) + No background
Example C: 244€
Full rendered Full (97€) + Additional character (87€) + Background (60€)
Example D: 147€
Full rendered Half (77€) + Background (70€)
---
Notice
What I can draw
Original characters (OC);

Fanart;

Real people;

Animals and creatures;

Mechanical devices;

SFW and NSFW.
What I won't draw
Anything too violent or with too many triggers

Tracing someone else's art
What I love drawing
Couples, families, friends

Frills

Flowers

Jewelry

Soft atmospheres

Forests, witch houses, SHIPS...I love fantasy backgrounds

Food & drinks

Muscled, slim, chubby...all kinds of body types!

Birds

Bunny suits
How I process
I will ask for every details possible before sending an invoice and a sketch;

You can ask up to 3 free modifications, but there'll be extra fees beyond that;

As soon as the invoice is paid, I'll start the cleaning! If you ask, I can send the step by step;

If the total price is more than 100€, you can pay in 2 times. But I will ask you for the rest of the payment before sending the finished drawing to you!
You can use my drawings for
Yourself (avatar, gift, tattoo, roleplay...etc);

Any type of project (video, novel, video game...etc);

Any type of communication medium (Twitch, poster, youtube thumbnail...etc).
---
For any questions feel free to send me a message!